"This is a big step for the whole world to know about the quality of our service." – Alexander Bylinsky, Managing Director at Alverden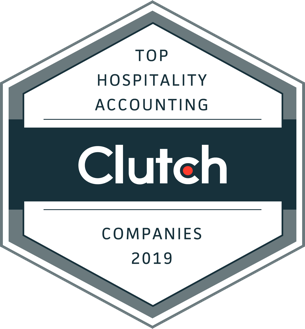 Clutch, a B2B market research firm headquartered in Washington, D.C.listed Alverden on its annual report of top B2B accounting firms.Alverden was featured as a premier provider for restaurants, medical institutions, and small businesses. This award is nothing short of a complete honor. We're thankful that Clutch chose us as a top provider.
Although Clutch highlighted us for our accounting services, that is just one of our many offerings.  Our team focuses heavily on development; in fact, over half of our projects involve some form of coding. Our team is well-versed in many of the industry-leading languages, and we can supplement our software deliverables with data consulting and system integration as well.
Wondering how we landed at the top of Clutch's list?
The firm's research team is able to identify and rank companies by using a variety of data sources. They combine market trends, portfolio content, and case study-like reviews to populate their directories and annual reports. Our Clutch profile is home to a collection of reviews that cover a wide range of different projects.
Whether you want to estimate the project by yourself or use one of the solutions offered by the third party provides, you need to decide which estimation technique suits best your business. To do that, you should answer such questions as: Do you have a clear project idea? Do you need an approximate estimation? Do you require a quick quote? We offer you to use the questions below to find the project estimation technique that suits your specific business needs.
The usage of the top-down estimation technique allows John to find a similar project to the one that he plans to develop. He compares his current project with the identified past project and gets the valuable information about the duration, team size, and cost of the current project. Applying analogous estimation, John may quickly decide whether or not he has enough resources to implement his project.
Because of the positive feedback we've received on Clutch, we're also featured on The Manifest, a Clutch-owned B2B knowledge resource. The Manifest has us ranked highly among the world's top financial accounting firms. Visual Objects, another Clutch sister site, is a comprehensive portfolio database. It can be used to compare the development capabilities of leading companies around the globe. Check out our profile to see some of our incredible work!
This award from Clutch is a major milestone for our company. It is sure to provide us with more clients who will benefit from our world-class services. If you have any interested in joining our network of happy customers, send us a note. We'd love to discuss your business needs and goals.